AH-TM Table Mount &nbsp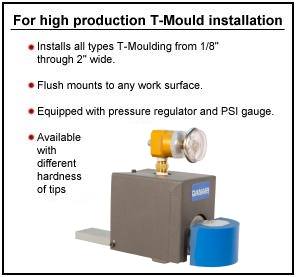 The AH-TM Tool is used by tee molding installation equipment manufacturers for reliable operation and quality results.
Since 1967, Danair, Inc. has manufactured top quality air tools for the cabinet and furniture industry. Stationary and hand held lightweight air tools that eliminate the need for cumbersome mallets and hammers have improved the productivity and safety.
Control - The Danair, Inc. AH-TM is a stationary air tool actuated by the pressure of the work piece against the hammer tip. When the work piece is removed, the tool will stop cycling immediately. The AH-TM will deliver over 1000 hammer blows per minute. Start the end of the tee molding into the kerf with finger pressure, push it against the hammer tip and advance the work piece and tee molding across the hammer tip as fast as the molding is set.
Flexible - Installs all types of tee molding from 1/8" through 2" wide onto small or large work surfaces without adjustment to the tool. Interchangeable hammer tips allow for soft or hard tee molding.
Air Consumption - Is extremely low.Continuous hammering uses approximately 3 CFM.
Quality - Since 1967 Danair, Inc. Products have been made in the U.S. with only the finest materials. Anytime during the LIFETIME of the tool a failure occurs because of workmanship or defective materials Danair, Inc. will repair or replace that tool.
Included - The AH- TM Table Mount Tool includes a pressure regulator and pressure gauge to adjust the air supply to the optimum level. The heavy mounting bracket allows for a strong stationary mount.
Danair, Inc. Products are proudly made in the U. S. backed by a Large Dealer Network and a Reliable, Responsive Manufacturer. Please contact us for more information.
Danair Inc.
Ship to:

 

Local:
Toll Free:
P.O. Box 2577
2180 Pinion RD. Suite F
Voice:
1-775-753-4411
1-800-232-6247
Elko, NV. 89803-2577
Elko, NV 89801-8829
FAX:
1-775-753-4438
1-800-324-1086
E-mail: info@danairinc.com
Copyright © 2000-2017 All Rights Reserved - Danair, Inc.
Website design by: K. Schoppe-Hine